Under 10 s vs Raynes Park Vale Blues – 04.11.2018
Merton Under 10s vs Raynes Park Vale FC
4TH – November 2018 – Under 10s report
There were clouds in the sky but the temperature was milder than you would expect for a November Sunday morning at Joseph Hood Rec. Ideal conditions for football. Today's opponents were Raynes Park Vale FC making this a local derby. A lot of the players were known to each other because of school and Saturday teams. As well as the points, local bragging rights were at stake. Maxwell was playing against the team he played for last year.
In the first half, Merton were kicking right to left. The game got off to a scrappy start, possession was turned over by both teams fairly cheaply in the early exchanges. Merton had a couple of shots in the first few minutes but nothing to write home about. When the game settled into a pattern, Merton began to dominate possession. Dave was particularly effective in this period, on one run down the left he skipped passed a couple of challenges and put in a powerful cross to the Raynes Park penalty area. Their keeper could only parry the cross. The ball landed at the feet of Maxwell who smashed it into the roof of the net from close distance. Eleven minutes gone.
1 nil to Merton
Merton were in control and created quite a few chances that should have led to more goals. On another run, Dave dribbled around 3 players had a shot that was saved by the Raynes Park's keeper. Maxwell went close with another shot, Louis did too. The second goal eluded Merton. At the other end, Harry Lake ( For Raynes Park) forced Max into a fine save and reminded Merton that they would not have everything their own way.
With 16 minutes gone, Merton wasted a couple of opportunities to clear their lines which allowed Sonny ( For Raynes Park) to break through from midfield and bare down on Merton's goal. He struck his shot to the bottom right hand corner. It went in.
1 all. Game on!
Raynes Park's goal lifted them and they were now getting more opportunities in front of goal. Merton were also creating chances and had goal attempts during the 21st, 23rd and 24th minutes of the first half. Raynes Park also went close with a shot that was just over the bar after good chest control and an improvised volley from Harry Dean. The score remained 1 all and the referee blew for half- time.
For the second half, Merton were kicking left to right and uphill. Merton definitely like kicking uphill at Joseph Hood and long may that continue. Within 2 minutes of the re-start Maxwell dispossessed a Raynes Park player and then launched an exquisite lob over Raynes Park's keeper. For a split second, there was silence as players and spectators tracked the flight of the ball. It came down in the bottom right of the goal. An excellent finish!
2-1 to Merton
This was a good period of the match for Merton as they showed that they can play exciting pass and move football. This was exactly how the third goal came about, Merton played out from the back. Ollie found Faris, Faris found Louis. Louis beat a defender and whipped in a cross to the back post, Maxwell met the cross on the volley and tapped in. 4 minutes of the second half gone.
3-1 to Merton
Merton continued to create chances, a Faris backheel set up Maxwell who passed on the overlap and crossed from the left wing for Louis who was arriving at the right-hand post. Louis slid in and narrowly missed adding to Merton's goal tally.
Raynes Park were not finished yet and could sense that they still had chance to get something out of the game. After a couple of failed clearances, the ball fell to Harry Dean (for Raynes Park). He shot to the bottom left of Merton's goal. It went in! 13 minutes of the second half played.
3-2 to Merton
Merton had to put in a strong performance defensively to hold off Raynes Park. Ollie, Joe and Harry were great in this period. Harry put in crunching tackle that stopped an attack and also the momentum that Raynes Park had. With 18 minutes gone, Percy tackled well and went on a run the length of the pitch leaving defenders in his wake. His shot was saved. With a minute left to play, Rio went on a run that took him to the Raynes Park goal. He rounded the keeper but unfortunately put his shot over the bar.
Soon after the referee blew the whistle for the end of the game. Another good win for Merton!
Maxwell was awarded the Man of the Match.
Well done again, boys!
Let's keep it going for Match Day 8.
Author: Mike Pitt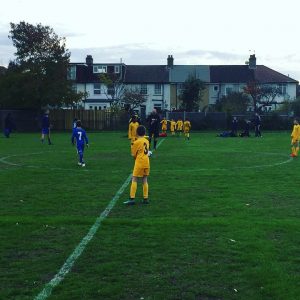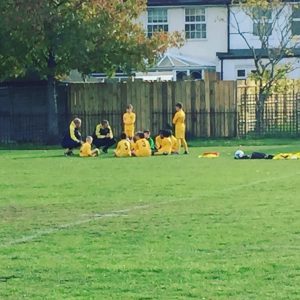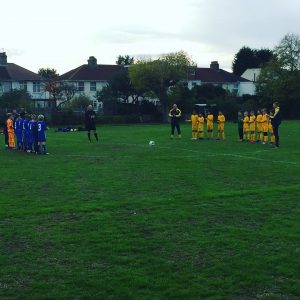 Posted in Under 10s Reports
---