Under 13s vs Worpledon Rangers
Today Merton FC played Worplesdon Rangers warriors in a action packed match.before the game started there was a minute silence for a Merton adults player who had sadly died in a traffic accident.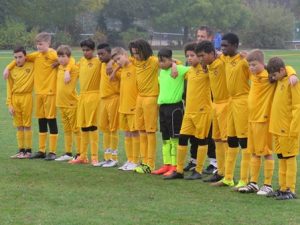 The match kicks off .
Lots of runs and plays are happening at both ends of the field. Then worplesdon rangers get a free kick on the half way line and there taker smacks it forward and it bounces over the keeper. 1-0 to Worplesdon rangers. Later on the other team gets a corner it comes curling in and one of the Merton defenders headers it into his own net. 2- 0 to Worplesdon rangers . Although Merton were 2- 0 they still had fight in them but Worplesdon went on the attack again and scored making it 3-0 after only 15mins, not a good start.
Later on Marcus got the ball and ran Through the defender and made it 3-1.
Straight after Marcus received the ball and ran with it and he couldn't be stopped then he shot and it went in 3-2 to the opposition, the come back was on. After attacks at both ends of the pitch and saves from both keepers . Merton did a few passes then got the ball out to Marcus and then he put the ball in the box to Theo who then smaked a left footed volley straight into the bottom right hand corner. Everyone cheered and was impressed of what a good goal it was. 3-3
Half time Steve gives the boys a talk and tells them what they need to do.
2nd half Kicks off .
Lots of chances happen at both ends both defences had there work cut out for them.
The Thier keeper takes a goal kick and it falls to Evan who smacks it straight over the keeper it was a excellent goal. Later on the opposition looked like they were going to equalise but then the linesman said offside as the striker put the ball into the net.
The final whistle blows.
4-3 to Merton the teams shake hands and say well played to each other.
Everyone worked hard in that match but the man of the match was Marcus.
Match report by Jack Harrington (left back/centre back)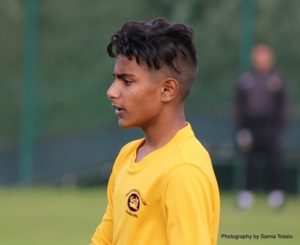 Posted in Under 13s Reports
---