Under 16s Report 10.09.17
Merton u16s 0-0 KPR Scarletts u16S
Entertaining opening game, despite the result. A battle between both sides, Merton trying to improve on last season and KPR coming down from the division above.
A battle that mainly took place in midfield with it being very congested.
First half Merton edged slightly, creating more chances and were disappointed not to have been ahead at half time. Kai, our goalkeeper, pulling off 1 or 2 good saves to keep a clean sheet. We kept the ball well, under particular pressure from the opposition and moved the ball well at times.
2nd half started well, with a neat bit of play that created an opening early on in the second half. This was a game of many opportunities … however none of them clear enough to score a goal.
With many crosses entering the opposition box from our wide players, including Harry we just couldn't convert one of the crosses.
We kept on battling to take the lead, and were nearly punished on the counter attack by a quick turnaround in possession with Kai pulling off a few more excellent saves to maintain the clean sheet.
Despite the disappointment of not winning, we take a point from a team that came from division above.
Merton fc under 16s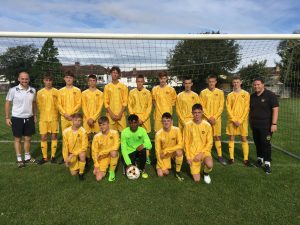 Posted in Under 16s Reports
---