Under 9s vs Mitcham Park Colts – 18-09-16
Merton 9. Mitcham park colts 1
First away match for the new under 9's team at mitcham park Merton came away convincing 9-1 winners.
Mitcham kicked off and Immediately lost possession to a very fired up merton team who attacked goal and forced the first save of the game within a minute. Merton dominated and the home team where unable to get out of there own half. On the fifth minute the ref stops the game at the instruction of mitcham park secretary, who announced they had fielded the wrong team.
After some delay the match eventually started with the correct mitcham team and to the credit of the Merton boys all the drama did not put them of the stride. It was same again as Mitcham where pinned back in there own half and not long before the goals started flying in.
Best moment of the match voted by our pitch Marshall Winta, was when Darius dispossessed a mitcham player on the halfway line, blazed down the right beating defenders along the way to the touch line and put over a perfct cross for Tom playing in only his second competitive game to strike home beautifully on the half volley.
Overall, a great team performance, Merton dominated and outclassed mitcham park colts with skill, effort, determination and discipline. 4 boys on the scoresheet with only 1 shot on target against, which went in!!!
Mitcham park colts manager summed up the Merton team performance.
"Great effort, great minds, great teamwork"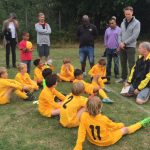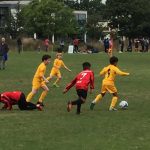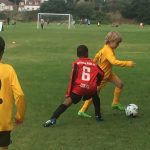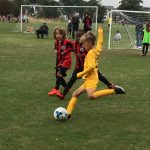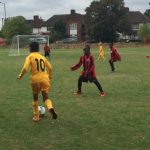 Posted in Under 9s Reports
---