2s vs Bank of England 07.02.15
A day at the Bank.
It is always a pleasure to have an away game at the Bank of England. It is nice and close, good facilities, good bar and food great pitches and a nice bunch of guys that run the club and are very welcoming.
Knowing that BOE's 1s had a AFA senior quarter final cup tie against Old Wilsonians I pitched up early so I could catch the first half hour or so. It was good to see a strong line up of officials for that game.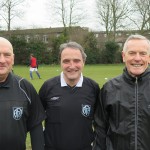 Picture from left to right. Phil Cook (OWCs) Richard Melvin (Kew Ass) and  Pat Morrisey (Old Sals). Particularly good to see Pat running the line as i had heard that he had not been well. The first half hour was quite even although there were signs that OWs were getting on top and the BOE keeper mada a couple of saves. As the pics show the Bank wore a Chelsea change kit while their 2s lined up in the Chelsea home kit.
---
So on to the 2s game. This was a bit of a disappointing result but it was far from a disappointing game.  Both sides played some good passing football on a good surface taking all things into consideration, like a comparison with Jo Hood. Although we got on top the Bank were always dangerous and slightly against the run of play went ahead after about 20 mins with a good move down the right a cross and powerful shot that Sherbs saved well but the Bank striker got to the rebound first and fired home. We cam at them very strongly after that and their goal had a charmed life. Thier keeper made some good saves and it was good to see as he is just coming back from 6 months off with a back problem. He played well with no ill effects. Our equaliser was  a great move down the right and a cross which Jase fired home. In the second half we went ahead with another great goal Jase firing home from the edge of the box after being set up by Will T. We did not add to that and it never looked to be quite enough and an equaliser came with 15 mins to go when Sherbs could only parry a terrific strike through a ruck of players, saw it late did well to get a foot to it etc etc etc  and their sub who had come on tucked it away I say he had come on but he had been offside most of the time that he was on.. WE ended up hanging on at the end and they did hit the post. So a point was probably fair. We did not take our first half chances and paid the price. The game was not played in the best spirit as we had some poor behaviour from both teams and with the ref being fair but a non interventionist it could have got ugly. It did for a bit. All in all a good day out. Jase with 2 goals got his Man of the Match award and dubious trophy.
Posted in Match Reports 2s
---