2s vs Hampstead Heathens – 17.02.18
Hampstead Heathens v Merton 2s
3-1
Scorers: Wilgo, Dan Rist, Haydn Dance
Going on the name of the oppo, Team Handsome assumed yet another north London away day was in store. But in an SAL first, we were grateful to be playing in Lewisham in bright sunshine.
It was a bright start from Merton, too: Dan Rist, on the left, pinged an arcing cross-field ball to Wilgo running beyond his marker on the opposite flank. The skipper cushioned a first-time header beautifully into Ackers' path, in space 10 yards out. Sherbs in goal was already audibly celebrating the only possible outcome. But Ackers found only the post.
He made up for it two minutes later with a flicked header from a Conor throw-in. Heathens' keeper couldn't deal with the looping ball in the sunlight, palming it only as far as Wilgo, who cushioned a volley home from close range.
Things started getting tasty soon after, Man of the Match Haydn the first to suffer a full-frontal assault and a four-inch gash across his knee. That this continued as a theme for the remainder of the game was apparently of little interest to the referee, who completely ignored – among others – a stone-bonking DQ penalty shout, Conor being pole-axed and Gresty being kicked five feet in the air. He was, however, very keen on seeing that Sherbs took a little time out in the sin bin for asking politely about the first on that list.
That alone was enough to earn Merton's number 1 Dick of the Day (as nailed on an award as we've seen, with turning up nearly an hour early and unsettling the squad and wandering out of his area ball in hand among Sherbs' other offences). He was still furious three days after the final whistle.
It should have been all over bar the scything come half time. Wilgo could have made it two when through on goal but for an excellent save. Then there was that nailed-on DQ penalty. Gibbo and Rayner injected a little more zip after half time, the former's wild shoot-on-site policy worthy of a DotD nomination. Dan Rist did make it two, having all the time in the world to cut in from the left and pick his spot at the near post and sorting it out for us all. Thanks Dan.
With around 20 minutes to go, a Haydn notched Merton's third with a close-range volley from a corner. Conor made an excellent save while replacing a sin-binned Sherbs while Rayner did an excellent impression of a brick wall as a fill-in left-back. Conor was having none of that when subsequently restored to his usual spot, and gave away a penalty.
It finished 3-1, and Merton third in the table.
Team: Sherbs, Conor Murphy, Peter Quainton, Haydn Dance, Joe Grew, Ryan Gresty, Dom Preece, Dan Rist, Wilgo (c), Ackers, David Quainton; Gibbo, Chris Rayner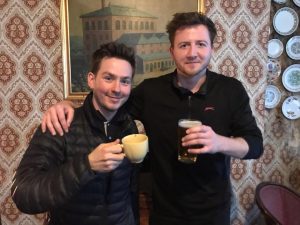 Posted in Match Reports 2s
---