5s vs Old Wilsonians – 09.09.17
So we started the season about as fast as it takes a fat person to run away from cake.
We arrived at Wilsonians' main ground 2 hours before kick-off, with Stormzy visibly impressed by the state
of the pitches. "Are we playing on there?" asked a young, naïve rapper from the fiery depths of Croydon. No,
Stormzy, we are the 5s – we will never be playing there.
Once we managed to drag Stormzy away, we arrived at the hilly, slopey pitch. It was as if we had all climbed
a beanstalk and ended up in a field of giants.
We started quite well, fashioning some decent chances in the opening exchanges. A good run from Gibbo,
who picked the ball up wide, came inside and hit a ferocious shot from 20 yards or so which went narrowly
over the bar. Likewise, a good ball released Forrest [Dwayne] on the right wing. He ran into the box, cut
inside the defender and it momentarily opened up for him. He pulled the trigger with his left foot, and the
ball went narrowly wide of the right hand post. Throughout the first 30-40 minutes, we were pressing without
conceding many chances, in part due to the excellent sweeper-keepering of Sam in goal. We won more
corners, free kicks in promising positions and played the ball around neatly around the edge of the box
throughout the first half, however we lacked a cutting edge to create a clear-cut chance. It seemed almost
an inevitability that they would score against the run of play. They hit us on the counter, outnumbering us
on the break. As they shifted the ball out wide to their winger, it looked like we had it contained and managed
to get the numbers back. However from 25 yards, their winger clipped in a cross-shot that conveniently
floated over Sam to put the home team 1 – 0 ahead.
The goal changed the game, and just before and just after the half time whistle we went on the back foot.
They utilised their height up front, got a few flick-ons causing our defence some issues. We dealt with it
fairly well, including pressure asserted through a series of corners. Unlike our pressure though, their breakthrough
finally came in the 65th minute or so. We gave the ball away around 35-40 yards away from goal –
a rather non-precarious situation. Their winger hit a speculative effort that looped over Sam and it was
2 – 0 to Wilsonians. Very soon after, they had the opportunity to put the game beyond us. A cross was
tipped away by Sam, unfortunately to the feet of their winger. Luckily, he misjudged the bounce and
spurned their best chance of the game.
11 I Match Report
Dulanjie's arrival paid off and in around the 75 – 80th minute he levelled. Through a crowd of bodies in the
box, Dulanjie played a composed finish past the keeper. A desperate attempt from the defender was not
enough, with the deflection hitting the underside of the bar and going in. We were 2 – 1 down with only a
short period of time to go.
We put in a lot of pressure and created quite a few half chances. More corners and free kicks went amiss,
however we had one very good chance towards the end. Stormzy played a good ball through to set Dulanjie
off on an intelligent run. He took a touch to set himself, however the goalkeeper was out fast to narrow
the angle. As Dulanjie hit a stinging shot, the keeper spread himself well and pulled off an impressive save.
The game was to end 2 – 1, and we find ourselves in need of a good result in the next game.
Although we didn't play too badly, and although we dominated for parts of the game, we were beaten
by their physicality and by giving the ball away a lot more than we would like to. I think everyone has it in
themselves to do a bit better than we did on Saturday, and we will need that to come sooner rather than
later.
That being said, none of us had a terrible game. Apart from the goals, which were both decent strikes, and
one clear chance they did not create much at all, with our defence relatively solid. Delman had a good
game defensively, not doing a lot wrong, and if we can unlock him more going forward then that will help
us be more of a threat as we did successfully in pre-season. Our midfield was strong and the balance with
Clive and Stormzy skilfully marshalling and breaking up play made the balance just about right. Dwayne
had a good, energetic game going forward on the right and could have had a goal & assist on the day – it
will surely come if he keeps making the intelligent runs he did on the day. Chris had a good game at left
mid and was solid when moved back to his natural left back, and Ackers always looked completely comfortable
& a calming influence when getting on the ball. Gibbo was strong up front and could have scored
a couple from long range, and Dulanjie did superbly to come on and score one with only a good save
denying him a second. Man of the match went to Sam in goal for a good performance, coming out for the
ball and collecting in very dangerous situations as well as sweeper-keepering to prevent some of their best
attacks.
Take home message: we know we are capable of more, and we must improve for the next game.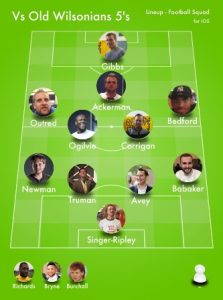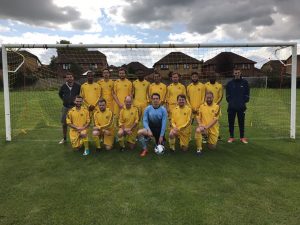 Posted in Match Reports 5s
---