Under 9s vs Westside – 12.11.17
Sunday 12th November 2017 – Merton U9s vs Westside Youth U9s (again)!
The Merton U9s were in confident mood as they turned out for another bash at beating Westside Youth. There was a distinct feeling of 'one that got away' given a great performance the week before and a narrow defeat to some great breakaway goals from a very good opposition.
The big difference between the weekends seemed to be that whilst there was no sight of any WhiteWalkers, winter had definitely arrived. A cutting wind scythed across the pitches and the parents carrying goals suspected they had been kept in deep freeze overnight. Definitely gloves needed next time around.
Before the game the ref gathered both teams and managers around centre circle to carry out a minute silence for Remembrance Sunday. Both set of teams did themselves proud and observed perfectly.
With a full squad at our disposal Neal and Roy called the changes and the game began. Line up for start of match was Max (GK), Archie and Harry (defence), David, Louie and Percy (midfield), Faris (forward and captain). Subs were Ollie, Lewis and Joe. Merton immediately set about their opponents in confident mood and shaded the first scoreless 15 minutes with some good link up play. It was very quickly evident that the mid week rain (great fun for training on Tuesday) had led to a very sticky pitch. A few of the lads slipped at key moments and got the ball under their feet at times. But, as the old adage goes, it's the same for both sides.
It was clear that the mid-week coaching had been taken on board by Faris who enjoyed a great game the previous week. He produced a series of passes to find good position and bring his team into play in attacking areas. This had an obvious positive effect on proceedings.
There was also some strong defending and Max pulled off a couple of solid saves and held the ball well. We also looked to play it positively out from the back on every occasion. Great for the boys development and decision making under pressure.
However, the first goal came for Westside Youth after they got a better foothold in the game. It felt like a real heartbreaker as the Merton boys had done well this far. It was aided by a slight slip in the area when trying to clear the ball by a Merton defender.
A second for Westside followed and Merton had to dig in to keep spirits up, as their performance thus far deserved. 2-0 at half time and all to do second half.
At half time a Westside parent was heard to say to their leggy number 10 he should have a pop from outside the box (clearly an established tactic) and it proved to be sharp advice. After 5 minutes he let rip from 15 yards and the ball found its home in the top of the Merton net. Gutted. Hard to keep out for Max given its pace and height.
Westside scored their 4th and final goal of the game after a few more minutes and you felt for the Merton boys who weren't 4 goals worse in their performance. The Westside team had played together for the last 3 years and their understanding of each other was evident as a strength. Merton just came up short in some key moments but this is the learning ground that can't be replicated outside a competitive game.
Into the last quarter and Merton got their rewards after another good move with short passes led to a chance for Lewis to have a long range shot, goalkeeper parrying it, which led to Faris following it up into the Westside net.
4-1 and so it finished. A consolation well deserved for Merton.
Neal and Roy spoke to the boys who knew they could beat this very good side from Westside if they got their game hooked up. Another chance will follow in the away game of course later in the season.
Parents were proud of the efforts and plenty of endeavour and quality all around. Lewis earned the Man of the Match award from an all round swash-buckling, box-to-box display including a handful of defensive interventions to help out his team mates. Cracking job Lewis. The average distance run by many of the players has increased noticeably as the weeks have passed and more of that running is into the right areas at the right time. Lewis typified this against Westside.
Onwards next week to an early away game near Richmond Park. Here's hoping for hot drinks on site!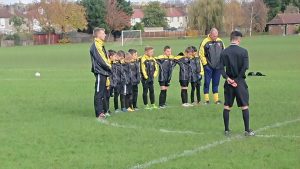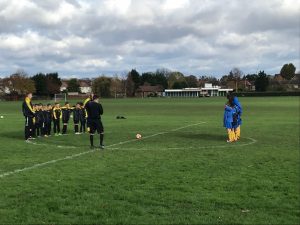 Posted in Under 9s Reports
---