Under 9s vs Esher Colts Orange – 13.11.16
Merton 3 v 1 Esher colts orange
A sunday afternoon league match away to esher colts saw the under 9s scrap to an off par 3-1 win.
The match started bright enough with a lightning fast attack straight from the whistle. The first goal came soon enough 1-0 Merton and we looked likely to run away with a big win. But Esher dug in and found an equaliser and this gave them confidence. credit to our boys who saw through the sticky patch and midway through the second half started to dominate the game as we should of done throughout. As we got back into our stride 2 quick goals settled the game. A 4th goal from a throw down the line, the cross came over, bit of a goal mouth scamble and goallll!!!!!! the crowd went crazy and the ref said….."ermmmm no goal i wasnt ready". final score 3-1 Merton
Thats 6 wins out of 6 league games.
Table topping match this sunday at the hood, we play Esher and Ewell a very good team who beat us in pre season friendly. The winner wins our mini festival league.
Please come and support the under 9s this Sunday.
Gary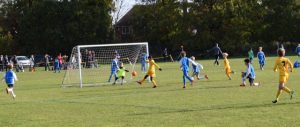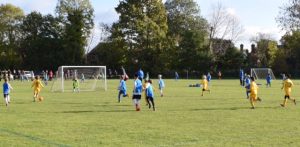 Posted in Under 9s Reports
---